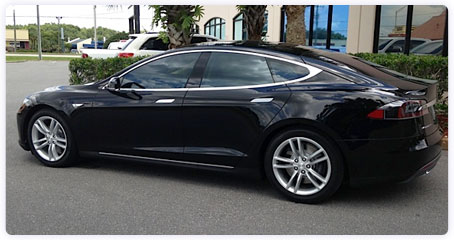 3M Crystalline Automotive Window Films
Breakthrough Technology - 3M Crystalline Automotive Films are the smart choice.
Developed in 3M's world-leading laboratories, 3M Crystalline Automotive Films are produced using multi layer nanotechnology. This is the same advanced technology used to improve the brightness of flat panel LCD televisions.

Nanotechnology works with materials over a thousand times smaller then the width of a hair, 3M's multi layer nanotechnology allows us to produce a patented window film with hundreds of layers of polymer that is less than the thickness of a Post-it® Note.

This advanced technology gives 3M Crystalline Automotive Window Films the ability to reflect up to 97% of the sun's infrared radiation with high visible light transmission. Also, these films use no metal in their construction. The result is crystal-clear films that do not interfere with mobile phone reception.

Stay connected with zero interference
Marking a significant breakthrough in window film technology, 3M Crystalline Automotive Window Films are totally metal-free. The result is an easy maintenance, long-life film without corrosion issues. Additionally, with its metal-free composition, 3M Crystalline Automotive Window Films have zero interference with mobile phones, GPS and radio reception. This minimizes the frustration of lost connectivity associated with metallic window films.
See clearly and safely with reduced reflectivity that is lower than glass
3M Crystalline Automotive Films provide substantially reduced reflectivity as compared to traditional window films. This greatly enhances car window views, as well as protecting their original beauty. What's more, the reduced reflectivity also cuts down on irritating and dangerous window glare, providing an added level of comfort and safety to your vehicle. In fact, two versions of these new films actually offer less reflectivity than glass, while Crystalline 60 and 70 have a reflectivity that is at most 1% greater than glass.
Protect skin with superior UV protection
3M Crystalline Automotive Films have a UV blockage performance of 99.9% and total SPF (Sun Protection Factor) that exceeds 1700. This provides a car's occupants with significant protection from the dangers of exposure to the sun's UV rays. Passengers can relax, knowing they are guarded against sunburn, premature aging and the risks associated with skin cancer. Additionally, our films help protect your valuable car interiors from the destructive ultraviolet rays that can cause fading and deterioration.
Protect your loved ones with enhanced safety and security
The new 3M Crystalline Automotive Window Films series offers the same glass breakage performance you have come to associate with 3M solar films. In the event of an accident, 3M Crystalline Automotive Window Films help to minimize flying glass. This greatly protects interior occupants against serious injury and valuable property from excessive damage. What's more, these films provide an added level of security by deterring crimes, such as break-ins, theft and vandalism.
Enjoy complete comfort with advanced heat rejection
3M Crystalline Automotive Films deliver superior heat rejection capability over traditional films. This brings added comfort to vehicle drivers and their families. To measure just how impressive these films are, we created a more stringent test for their performance: the Total Solar Energy Rejected - On Angle Test. This test proves that 3M Crystalline Automotive Films provide optimum comfort and protection throughout the day, particularly during the hottest times.
3M Crystalline Automotive Window Films, A Name You Can Trust
3M Crystalline Automotive Films represent a high-technology window film choice that server as a smart investment. For over 40 years, 3M has remained the world leader in the development of new and innovative window film products, beginning with our invention of the first window film in 1966. There are millions of square feet of 3M Window Films installed around the world. Now the most trusted name in the industry has set a superior standard for enhanced protection, comfort and style in automotive window films.
* See limited lifetime warranty for details.