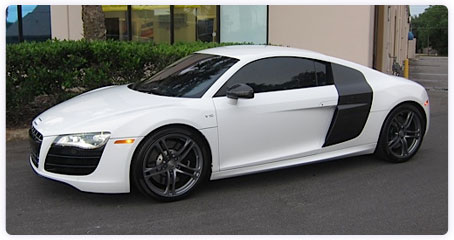 3M Color Stable Automotive Window Film
Introducing the new, innovative 3M Color-Stable Auto Film.
Don't settle for anything less than the best for your car. Get 3M Color-Stable Auto Film. 3M is a leader in creating technology-advanced window films. Our latest achievement is the creation of premium auto window films that hold their color, are high heat rejecting and look great on your car!

3M has developed a patented technology for producing window film that incorporates a unique process not found in conventional films. Never before has anyone done this. In fact, it's so advanced that in time-based tests, 3M Color-Stable Auto Film held its color while most conventional dyed films rapidly changed to a purple color.

No purple windows. Guaranteed.
3M's revolutionary Color-Stable Auto Films maintain their colors and never fade to purple. We guarantee it!
Hot wheels. Cool car.
3M's Color-Stable Auto Film incorporates a unique process that allows for maximum heat rejection. Not only does your car look great on the outside, but inside you get protection from the sun's heat, ultraviolet rays and glare. 3M Color-Stable Auto Film will help make your car cool and comfortable with less drain on your car's air conditioning. Because our films block out 99 percent of the sun's damaging ultraviolet rays, we protect your car's interior. Cloth and leather interiors are less likely to fade, crack and peel, and are not as warm to the touch.
No interference with satellite signals.
Regardless if you are using your GPS system, satellite radio, or just using your cell phone, you can count on Premium Color-Stable not to block your satellite signals.
Only buy the 3M print mark.
You know that your car features authentic 3M Color-Stable Auto Film when you see the 3M print mark on the window itself. The 3M print mark is your assurance of authenticity.
Look good. Feel good.
Regardless of whether you choose a light, medium or dark film for your car, 3M Color-Stable Auto Film will give your car a beautiful look and may increase your car's resale value. Because 3M uses its very own proprietary adhesives to create a clear, strong bond, your car's sleek look is guaranteed by 3M against bubbles, peeling or blisters.*
Great looks and safety, too.
In addition to its fantastic appearance, 3M Color-Stable Auto Film helps to keep you and your passengers safe during an accident by holding glass in place. Plus, not only does the film prevent shards of flying glass, the tint can hinder thieves from seeing into your vehicle.
3M stands behind their work.
3M window film is backed by a limited lifetime warranty when you have your 3M Color-Stable Auto Film installed by one of our 3M authorized dealers. Receiving your warranty card is your best assurance that you have the finest film available and is properly installed in your vehicle.
* See limited lifetime warranty for details.