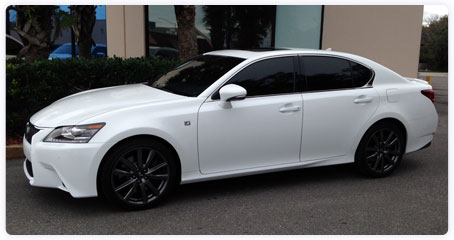 3M FX Premium Automotive Window Films
FX Premium delivers good looks and great performance, keeping you and your passengers cool and comfortable. As 3M's newest automotive window film addition, FX Premium offers an economical alternative without sacrificing quality. FX Premium rejects up to 45% of the heat coming through your windows. FX Premium films also provide significant glare relief, allowing only 5% to 55% of the light into your car.
3M Color-Stable Window Films
3M Color-Stable Window Film will never fade to purple as the film ages, it is coated with a durable, scratch-resistant covering, the metal free construction will not interfere with your electronics, and has superior UV and heat rejection performance at darker shades. 3M is a leader in creating technology-advanced metal-free window films. The lifetime warranty insures years of performance without having to replace your car's window film.
3M Crystalline Automotive Window Films
The new 3M Crystalline Automotive Window Films offer a clear breakthrough in automotive solar protection. These films are metal-free, resulting in an easy-to-maintain, long-life film that won't interfere with car electronics. The Crystalline films feature a proprietary multi layer technology that combines more than 200 layers in a film that is thinner than a Post-it® Note.